Certainly, professionals have competed against each other from the earliest days of the game in the United States.
In 1895, 10 professional golfers and one amateur played in the first U.S. Open in Newport, Rhode Island, Shortly thereafter, tournaments began to pop up across the country, including the Western Open in 1899. But this was not "tour" golf. The events lacked continuity.
Interest in the game, however, continued to grow. American professionals were rapidly improving. When John McDermott became the first American-born player to win the U.S. Open in 1911, interest in the game blossomed. That interest became enthusiasm in 1913 when Englishmen Harry Vardon and Ted Ray, the world's best players, came to the United States to play an exhibition tour and compete in the U.S. Open. When 20-year-old amateur Francis Ouimet defeated the pair in a playoff at Brookline, Massachusetts, golf became front-page news and a game for everyone.
In the early 1920s, a series of tournaments was held on the West Coast, in Texas and Florida. These events were held in the winter, and the golfers played their way east and up to Pinehurst, North Carolina, in the spring. By the middle of the decade, the tour was doing relatively well—offering $77,000 in total prize money.
The first "playing professionals" organization was formed in 1932. Two years earlier, Bob Harlow had been named manager of the PGA Tournament Bureau. The tour became more structured following World War II and grew rapidly in the late 1950s and early 1960s. When the combination of Arnold Palmer, televised golf and President Dwight D. Eisenhower arrived on the scene in the late 1950s, the eyes of the world were on golf. This exposure inspired millions to try the game and made superstars of golf's greats like Palmer, Jack Nicklaus and Gary Player.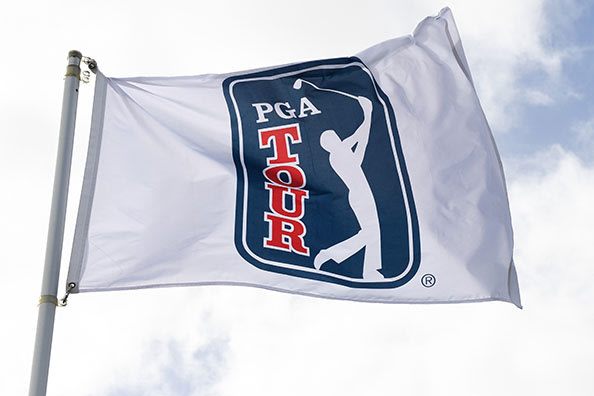 Most golf historians trace the "formal" beginning of the PGA TOUR to late 1968, when the "Tournament Players Division" split from the PGA of America and hired Joe Dey as its first commissioner. That organization became the modern-day PGA TOUR. Dey served from early 1969 through February 28, 1974, and was succeeded by four-time PGA TOUR winner Deane R. Beman on March 1, 1974.
During Beman's administration, the value of tournament purses escalated at an unprecedented rate. PGA TOUR assets grew from $730,000 in 1974 to more than $200 million, and total revenues increased from $3.9 million to $229 million in 1993. The TOUR also moved its headquarters from Washington, D.C., to Ponte Vedra Beach, Florida, where in 1980, it introduced the era of stadium golf with the opening of TPC Sawgrass, which would become the permanent home of THE PLAYERS Championship in 1982.
Tim Finchem became the TOUR's third commissioner, on June 1, 1994 and served through December 31, 2016. During his 22 years in office, Finchem was instrumental in expanding the TOUR's international footprint, growing earnings opportunities for PGA TOUR members and introducing events such as the Presidents Cup (1994), the World Golf Championships (1999) and the season-long FedExCup race (2007). Charity was also a significant focus of Finchem's tenure as commissioner. In January 2014, the TOUR and its tournaments reached the $2-billion milestone in charitable contributions, with $1 billion of that total raised since 2006.
Jay Monahan took office as the fourth commissioner of the PGA TOUR on January 1, 2017. Monahan joined the PGA TOUR in 2008 as Executive Director of THE PLAYERS Championship, and prior to being appointed commissioner, ascended to the position of Deputy Commissioner on April 1, 2014, with Chief Operating Officer added to his title on April 1, 2016.
The competitive scope of the PGA TOUR is also much broader today. The PGA TOUR schedule has continued to expand both domestically and internationally, and the season-long FedExCup competition enters its 15th season in 2020-21, having crowned golf's top players including Tiger Woods (2007 and 2009), Jordan Spieth (2015), Rory McIlroy (2016, 2019), Justin Thomas (2017) and most recently, Dustin Johnson in 2020. For the first time since 1904, golf took part in the Summer Olympics Games with its return celebrated in Rio in 2016. And in addition to PGA TOUR Champions and the Korn Ferry Tour, the TOUR has increased playing opportunities across all levels globally with three international Tours – PGA TOUR Latinoamérica, Mackenzie Tour-PGA TOUR Canada and PGA TOUR Series-China – and in June 2020, the TOUR launched PGA TOUR University, a program designed to create a pathway for the top four-year NCAA golfers into the professional ranks.
Like the rest of the world, the golf industry was thrown off its axis with the arrival of the COVID-19 global pandemic in the early months of 2020. Following a 12-week hiatus, with cancellations and postponements across all Tours, the PGA TOUR championed the Return to Golf, and on June 11, 2020, the TOUR became one of the first sports leagues to return to competition with the opening tee shots at the Charles Schwab Challenge in Fort Worth, Texas. Working with leading golf organizations, and with its title sponsors, host organizations and media partners, the PGA TOUR announced a reimagined schedule, which saw the completion of the 2019-20 FedExCup Season, and set up the 2020-21 campaign, of which would become a super season of 50 events, with more significant events than ever before – including two playings of the U.S. Open and Masters Tournament, as well as the Olympic Games.
Chronology

---

1899

Inaugural Western Open (won by Willie Smith) played at Glenview (Ill.) Golf Club

1900

Harry Vardon tour of United States generates widespread interest in game

1913

Francis Ouimet captures U.S. Open playoff with Harry Vardon and Ted Ray

1914

Walter Hagen wins first of 11 major titles in U.S. Open at Midlothian Country Club outside Chicago

1916

PGA of America formed; Jim Barnes wins first PGA Championship over Jock Hutchison at Siwanoy Country Club in Bronxville, N.Y.

1922

Gene Sarazen (age 20) wins U.S. Open (Skokie Country Club in Glencoe, Ill.) and PGA Championship (Oakmont Country Club in Oakmont, Pa.), becoming first to hold both titles at once

1926

Los Angeles Open offers $10,000 purse

1927

First Ryder Cup matches played in Massachusetts, won by United States at Worcester Country Club

1930

Bob Harlow named manager of PGA Tournament Bureau and broaches idea of year-round tournament circuit; raises annual purse money on the TOUR from $77,000 to $130,000 in first year on job; instrumental in creating volunteer system by which TOUR functions to this day; Code of conduct drawn up

1931

Golf Ball and Golf Club Manufacturers Association puts up $5,000 to support sponsors during 1931-32 winter swing

1932

"Playing Pros" organization formed, pre-dating by 36 years formation of current PGA TOUR organization

1933

Hershey Chocolate Company, at least unofficially, becomes first corporate sponsor on PGA TOUR with Hershey Open

1934

Group of players meets to discuss possibilities of year-round tournament circuit; Horton Smith wins first Masters at Augusta National Golf Club; leading money-winner for year, Paul Runyan, earns $6,767

1935

Babe Didrikson Zaharias is the first woman to play in a PGA TOUR event, as a sponsor exemption in The Cascades Open

1937

First Bing Crosby Pro-Am/"Clambake" played at San Diego's Rancho Santa Fe Country Club; Sam Snead becomes nationally recognized figure in golf by winning Oakland Open

1938

Palm Beach Invitational makes first TOUR contribution to charity, $10,000

1945

Byron Nelson captures 11 consecutive tournament starts, seven other official events and one unofficial, a total of 19 wins in one year; voted 1945 Associated Press Male Athlete of Year; Tam O'Shanter All-American offers $60,000 purse

1947

U.S. Open televised live in St. Louis area

1949

Ben Hogan critically injured in head-on collision of his automobile with Greyhound bus in rural Texas

1950

Ben Hogan returns to competitive golf in Los Angeles Open, starting with 2-under-par 34 on his front nine and eventual 280 total tied by Sam Snead; loses playoff eight days later

1953

Ben Hogan wins three major championships: the Masters, U.S. Open and the only Open Championship he ever played; Lew Worsham wins first PGA TOUR event to appear live on national television, Tam O'Shanter World Championship; Golf's "color barrier" broken with PGA constitutional amendment allowing for "Approved Entries," non-members who could play in tournaments if invited by sponsors

1954

USGA begins to televise U.S. Open for national audience

1955

World Championship of Golf offers first $100,000 purse in TOUR history

1956

Masters Tournament televised for the first time

1957

"All-Star Golf," first series of matches between pros filmed for television, debuts

1961

Caucasians-only clause stricken from PGA of America constitution; tournament golf officially integrated

1962

"Shell's Wonderful World of Golf" begins nine-year run

1965

Inaugural Qualifying Tournament held at PGA National Golf Club in Palm Beach Gardens, Fla.; John Schlee first medalist

1968

Association of Professional Golfers (APG), an autonomous tournament players' organization, forms in breakaway from PGA. As compromise, Tournament Players Division of PGA forms under aegis of 10-man policy board late in year

1969

Joe Dey becomes first Commissioner of Tournament Players Division

1974

Deane Beman succeeds Joe Dey as Commissioner on March 1; Jack Nicklaus captures inaugural PLAYERS Championship at Atlanta Country Club

1977

Al Geiberger records first sub-60 round in PGA TOUR history on June 10, a 59 in Danny Thomas Memphis Classic at Colonial Country Club

1978

First Legends of Golf played at Onion Creek Country Club in Austin, Texas, the precursor of the Champions Tour

1979

PGA TOUR Headquarters relocated from Washington, D.C. to Ponte Vedra Beach, Fla.

1980

Senior PGA Tour organized with two tournaments; First TPC opens, the TPC Sawgrass in Ponte Vedra Beach, Fla.

1983

All-Exempt TOUR put in place, virtually eliminating Monday qualifying; top 125 players exempt; Tournament Players Series (TPS) begins three-year run; PGA TOUR Pension Program begins

1985

PGA TOUR Productions created

1986

Panasonic Las Vegas Invitational offers first $1-million purse in PGA TOUR history

1987

PGA TOUR surpasses $100 million in charitable contributions

1988

30 players compete at Pebble Beach for $2 million in Nabisco Championships, predecessor of THE TOUR Championship

1990

Ben Hogan Tour, now known as the Korn Ferry Tour, is formed

1991

Chip Beck matches Geiberger's 1977 feat on October 11, carding a 59 at Sunrise Golf Club during Las Vegas Invitational

1992

PGA TOUR surpasses $200 million in charitable contributions

1993

The PGA TOUR boasts a record five $1-million winners

1994

Tim Finchem succeeds Deane Beman as Commissioner on June 1; United States wins inaugural Presidents Cup, defeating Internationals, 20-12, at Robert Trent Jones Golf Club

1995

World Cup of Golf, the first major international golf competition held in the People's Republic of China, is played at Mission Hills Golf Club

1996

Golf's five world-governing bodies join to create International Federation of PGA Tours; U.S. edges Internationals in second Presidents Cup; PGA TOUR charity donations top $300 million

1997

Start of World Golf Championships in 1999 announced; World Golf Federation initiative The First Tee announced

1998

Johnny Miller and Nick Faldo inducted into World Golf Hall of Fame as part of World Golf Village opening ceremonies; International team wins first Presidents Cup played outside U.S. at Royal Melbourne in Australia

1999

David Duval becomes third player to shoot 59; U.S. stages most dramatic Ryder Cup comeback, rallying from 10-6 deficit on final day for 14 1/2-13 1/2 win over Europe

2000

Tiger Woods wins nine titles, including the completion of six consecutive victories early in the year, and is first player since Ben Hogan in 1953 to win three majors in same year; joins Hogan, Gene Sarazen, Gary Player and Nicklaus as winners of career Grand Slams

2001

World Golf Championships-American Express Championship and Tampa Bay Classic canceled in show of respect for victims of Sept. 11 terrorist atrocities; Ryder Cup switches to 2002 and Presidents Cup to 2003 in wake of those attacks

2002

Tiger Woods wins the Masters and U.S. Open, the first man to capture the first two major championships of the year since Nicklaus in 1972

2003

Tiger Woods wins a season-high five times and has the lowest-stroke average on TOUR for a fifth consecutive season. Vijay Singh wins four times and captures his first money title. Annika Sorenstam and Suzy Whaley become the first women to play in a TOUR event in 58 years. The Presidents Cup in South Africa ends in a tie with the teams sharing the Cup

2004

Player of the Year Vijay Singh wins a season-high nine times, becomes the first player to surpass $10 million in earnings in a season ($10,905,166) to garner the Arnold Palmer Award and captures the Byron Nelson Award for low stroke average

2005

Tiger Woods wins a season-high six times and is voted Player of the Year for the seventh time. Woods' wins in the Masters and The Open Championship. The PGA TOUR's charity total surpasses $1 billion in late October

2006

Tiger Woods wins eight times, including six consecutive starts at the end of the season, to earn Player of the Year. That streak includes The Open Championship and PGA Championship. His PGA TOUR victory total reaches 54, fifth on the career list. The inaugural FedExCup is announced for 2007

2007

Tiger Woods wins the inaugural FedExCup with a record-setting performance at The TOUR Championship by Coca-Cola. He wins seven times on the year. This includes the completion of seven consecutive victories (second all-time) and the PGA Championship, his 13th major championship title. Phil Mickelson wins THE PLAYERS Championship on a refurbished TPC Sawgrass course and at a later date (May). The other major championship winners were first-timers: Zach Johnson (Masters), Angel Cabrera (U.S. Open) and Padraig Harrington (The Open Championship). The United States team wins The Presidents Cup in Montreal, Canada

2008

Vijay Singh wins three events late in the season, including two PGA TOUR Playoffs events, to capture the second FedExCup title and also the Arnold Palmer Award as the season's leading money winner. Tiger Woods wins a season-high four times, including a dramatic 19-hole playoff with Rocco Mediate at the U.S. Open, before undergoing season-ending knee surgery following the victory at Torrey Pines Golf Course. Woods ups his PGA TOUR career wins to 65 (third all-time) and major titles to 14 (second all-time). Padraig Harrington wins The Open Championship and PGA Championship on his way to Player of the Year honors and Trevor Immelman captures the Masters Tournament. Sergio Garcia beats Paul Goydos in a playoff to win THE PLAYERS Championship

2009

Tiger Woods captures his second FedExCup and wins a season-high six times to total 71 for his career, trailing only Jack Nicklaus (73) and Sam Snead (82) in career victories. The FedExCup title is his second in the three-year existence of the season-long points competition. Phil Mickelson and Steve Stricker place second and third, respectively, in the FedExCup, and each claims three PGA TOUR wins. In the major championships, there are four different winners: Argentina's Angel Cabrera (Masters), Lucas Glover (U.S. Open), Stewart Cink (The Open Championship) and South Korea's Y.E. Yang (PGA Championship). Sweden's Henrik Stenson fires a final-round 66 to win THE PLAYERS Championship. The United States team, led by Woods and Stricker, defeats the International team in The Presidents Cup at San Francisco's Harding Park GC

2010

Jim Furyk combines a season-high, three-tournament win, including the TOUR Championship by Coca-Cola, to capture the FedExCup title and earn Player of the Year honors. The FedExCup is in its fourth year of a season-long points competition. Matt Kuchar and Luke Donald place second and third, respectively, in the FedExCup. Kuchar, Steve Stricker, Ernie Els, Justin Rose, Hunter Mahan, and Bill Haas each claims two PGA TOUR wins. In the major championships, there are four different winners: Phil Mickelson (Masters), Northern Ireland's Graeme McDowell (U.S. Open), South African Louis Oosthuizen (The Open Championship) and German Martin Kaymer (PGA Championship). South Africa's Tim Clark fires a final-round 67 to win THE PLAYERS Championship

2011

Bill Haas begins the final event of the PGA TOUR Playoffs for the FedExCup, the TOUR Championship by Coca-Cola, in the 25th position, needing to win the Atlanta tournament and then gets some help. Both things happened as Haas edges Hunter Mahan in a three-hole, sudden-death playoff that gives him the tournament title, the FedExCup and its $10-million prize. Luke Donald wins the money title on both the PGA TOUR and European Tour and is named the TOUR's Player of the year. First-time major champions is the rule, with South African Charl Schwartzel wining the Masters Tournament. Northern Ireland's Rory McIlroy and Darren Clarke win the U.S. Open and The Open Championship, respectively. Playing in his first major championship, Keegan Bradley wins the PGA Championship, one of two titles for the TOUR rookie. K.J. Choi outlasts David Toms in a playoff at THE PLAYERS Championship. The United States team, led by captain Fred Couples, defeats the International team in The Presidents Cup in Melbourne, Australia

2012

World No. 1 Rory McIlroy takes home two victories during the FedExCup Playoffs (Deutsche Bank Championship and BMW Championship) but Brandt Snedeker claims the FedExCup, thanks to a victory at the TOUR Championship by Coca-Cola. McIlroy ends the streak of 10 consecutive first-time major winners with his eight-shot victory at the PGA Championship. Tiger Woods wins for the first time since 2009, and with three wins on the season, he ties (the Memorial Tournament) and surpasses (AT&T National) Jack Nicklaus for second all-time with 74 victories

2013

Henrik Stenson matches Bill Haas' performance from two years earlier, winning the TOUR Championship by Coca-Cola and, in turn, taking home the FedExCup. His victory in Atlanta was his second of the FedExCup Playoffs, to go with his title at the Deutsche Bank Championship. Tiger Woods wins his 11th PGA TOUR Jack Nicklaus Award as Player of the Year. His five wins leads the TOUR, and he finishes the season three wins short of tying Sam Snead on the all-time victory list

2014

For the first time, the PGA TOUR embarks on a wraparound schedule bridging two years with 45 events over 43 weeks and includes official events in Malaysia and China for the firs time, awarding FedExCup points to participants. In January 2014, the PGA TOUR crosses the $2 billion-threshold in charitable giving. In one of the best closing stretches in PGA TOUR history, Billy Horschel wins the FedExCup with a furious rally that includes a T2 at the Deutsche Bank Championship and victories at the BMW Championship and TOUR Championship by Coca-Cola. Rory McIlroy is named Player of the Year for the second time in three seasons on the strength of three victories and two runner-ups finishes.

2015

Jordan Spieth caps a historic five-win season by winning the TOUR Championship by Coca-Cola and the FedExCup. With major wins at the Masters and U.S. Open, 21-year-old Spieth becomes the youngest player to win two majors since Gene Sarazen in 1922. He also breaks the PGA TOUR record for most money won in a season with $12,030,465. Spieth beats out PGA Champion Jason Day, Rickie Fowler and Rory McIlroy for Player of the Year honors. Between August 23 and September 27, Spieth, McIlroy and Day trade off the distinction of No. 1 player in the world, marking the first time the top spot in the Official World Golf Ranking changes in six consecutive weeks. The Presidents Cup is held in Asia for the first time, with a tight battle between the United States and International teams until the final hole when Bill Haas, son of U.S. Captain Jay Haas, secures the winning point against South Korea's Sangmoon Bae on the 18th hole.

2016

The 10th season of the FedExCup concludes with the four winners of the FedExCup Playoffs events all inside the top 15 in the Official World Golf Ranking, including Patrick Reed (The Barclays), Dustin Johnson (BMW Championship) and FedExCup champion Rory McIlroy, who wins the Deutsche Bank Championship and TOUR Championship. Highlights from the 2016-17 season include Player of the Year Dustin Johnson extending his TOUR-best streak of winning at least once in nine consecutive years, four first-time major winners - Danny Willett (Masters), Dustin Johnson (U.S. Open), Henrik Stenson (The Open Championship) and Jimmy Walker (PGA Championship) - and the first-ever, sub-59 round in an official PGA TOUR event with Jim Furyk's final-round 58 at the Travelers Championship. Golf takes place at the Olympics for the first time since 1904, with PGA TOUR members taking home medals on the men's side. Great Britain's Justin Rose defeats Stenson of Sweden on the 72nd hole for the gold medal, while Matt Kuchar records earns bronze for the United States.

2017

Jay Monahan succeeds Tim Finchem as Commissioner on January 1. 19 different players in their 20s win a total of 28 times, establishing a new PGA TOUR record. Leading the way is 24-year-old Justin Thomas, who wins five times on his way to capturing the FedExCup and being named Player of the Year. Thomas wins the PGA Championship for his first-career major title, while Jordan Spieth secures his third at The Open Championship. Spieth becomes the second player ever and first since Jack Nicklaus to win three majors before turning 24. The young players' success is capped off by Xander Schauffele, who wins the TOUR Championship and is named Rookie of the Year. At the Presidents Cup, the United States defeats the International side, 19-11. Daniel Berger closes out Si Woo Kim 2-and-1 to become the first-ever Presidents Cup "rookie" to clinch the Cup, and at 24, the youngest player to clinch the Cup for either team.

2018

Tiger Woods and Justin Rose cap off the season by winning the TOUR Championship and FedExCup, respectively. Woods' 80th TOUR title comes 1,876 days and 42 PGA TOUR starts after his 79th win, while Rose, whose season includes wins at the World Golf Championships-HSBC Champions and Fort Worth Invitational, becomes the first Englishman to win the FedExCup. Brooks Koepka becomes the first player to successfully defend a U.S. Open title since 1989 and first to win the U.S. Open and PGA Championship in the same season since 2000. 12 different players in their 20s account for 17 wins, including three from defending FedExCup champion Justin Thomas and three from Bryson DeChambeau. In all, five players claim three wins: Thomas, DeChambeau, Dustin Johnson, Bubba Watson and Brooks Koepka.

2019

The TOUR introduces a schedule with significant changes, including THE PLAYERS Championship's return to March, the PGA Championship's move to May and the FedExCup Playoffs being reduced from four events to three and ending in August. A new strokes-based scoring system is implemented at the TOUR Championship, making it easier for players and fans alike to follow along. Rory McIlroy wins THE PLAYERS and his second FedExCup title, becoming the first player to win both in the same season and the second to win the FedExCup multiple times, joining Tiger Woods. Tiger Woods wins his 15th major championship and first since 2008, winning the Masters Tournament to move within one of Sam Snead's record of 82 PGA TOUR victories. Brooks Koepka wins his fourth major at the PGA Championship and becomes the fifth player to finish in the top five at all four majors in a single year. Only four players win multiple events (McIlroy, Koepka, Matt Kuchar, Xander Schauffele) and only three events are decided by a playoff (Safeway Open, World Golf Championships-HSBC Champions, The RSM Classic).

2020

The 2019-20 PGA TOUR Season will be remembered as the season impacted by the COVID-19 global pandemic, resulting in a 12-week hiatus from competition – following the opening round of THE PLAYERS Championship in Ponte Vedra Beach, Florida, on March 12, 2020 – and the cancellation of 11 tournaments and the postponement of three, including the Masters Tournament and the U.S. Open. The Open Championship is among tournaments canceled in 2020 and the Summer Olympic Games is postponed until 2021. When the PGA TOUR resumes play at the Charles Schwab Challenge in Fort Worth, Texas on June 11, 91 days since the last official round, the organization becomes one of the first professional sports to compete amid the pandemic. The PGA TOUR completes the 2019-20 season on Labor Day with Dustin Johnson raising the FedExCup at the TOUR Championship for the first time, becoming the first No. 1 seed to win since Tiger Woods in 2009. Prior to the pandemic, Woods captures victory No. 82 in October 2019 at THE ZOZO CHAMPIONSHIP, tying Sam Snead's PGA TOUR record for all-time wins, and in December 2019, he captains his first Presidents Cup, serving as a playing captain as he leads the United States to victory at Royal Melbourne Golf Club in Australia over Ernie Els' International Team. Pete Dye, famed golf course architect and mastermind of THE PLAYERS Stadium at TPC Sawgrass, home of THE PLAYERS Championship, dies at age 94 on January 9, 2020.