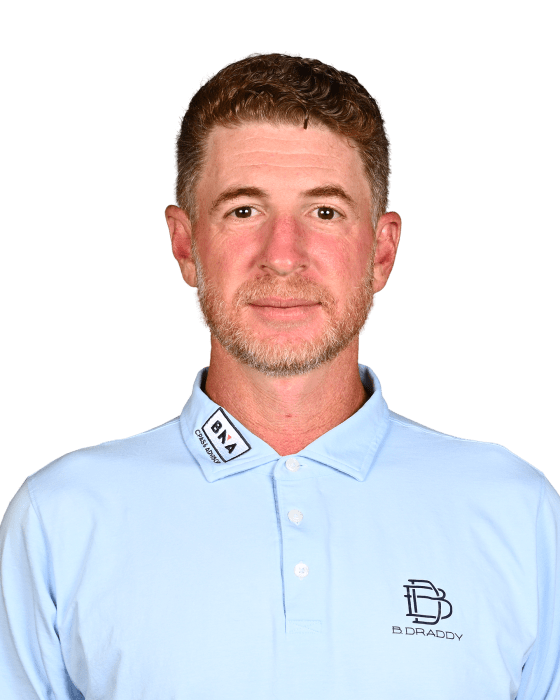 Vince Covello
Height: 6'2" (1.88 m)
Weight: 190 (86 kg)
Age: 40 (November 26, 1982)
Birthplace: Springfield, Pennsylvania
Residence: Atlantic Beach, Florida
Family: Single
Education: University of North Florida
Special Interests: Snowboarding, fishing
Turned Professional: 2004
City plays from: Atlantic Beach, FL, United States
Exempt Status
---
PGA TOURKorn Ferry Tour Medical Extension
Career Victories
---
Korn Ferry Tour Victories (1):
2019 (1) Chitimacha Louisiana Open presented by MISTRAS.
Player Statistics
---
Career Low Round:
67 - 2020 A Military Tribute at The Greenbrier (Round 1)
Career High FedExCup Rank:
#46 : 2020 A Military Tribute at The Greenbrier
Career High Official World Golf Rank:
#374 : 2019 Travelers Championship
Career Largest Paycheck:
$19,035 : 2020 A Military Tribute at The Greenbrier (Finished 47)
2022-23 Season Highlights
---
Entered the season on a Major Medical Extension (placed below Korn Ferry Tour category) with 17 starts available to earn 440.355 FedExCup points and match No. 125 from the 2020-21 FedExCup standings (Chesson Hadley/440.355).
Career Records
---
PGA TOUR (Playoff Record: 0 - 0)
Season
Events
Rounds
1st
2nd
3rd
Top 10
Top 25
Cuts Made
Cuts Missed
WD
FedExCup Rank
Earnings
Total:
11
24
1
9
1
$19,035
2020
10
22
1
8
1
236
$19,035
2013
1
2
1
(A) - Amateur
Personal
---
Attended the majority of high school in Philadelphia (1998-00) before graduating from Nease High School in Ponte Vedra Beach, Florida, where he led the team to the state title and won the Florida AA state individual title.
Has three sisters and two brothers. Father, Jim, passed away in 2009. Shortly after, met Anders Forsbrand, a six-time European Tour winner who served as a mentor and swing coach.
Motto is "You only live once and nothing matters."
Favorite teams hail from Philadelphia, including the Phillies, Eagles and Flyers.
Will never forget riding around inside the ropes with the assistant captain at the 2004 Ryder Cup.
When not playing golf, enjoys snowboarding, fishing and cheering on his favorite Philadelphia sports teams, the Phillies, Eagles and Flyers.
Has traveled the world competing on professional golf tours including PGA TOUR Latinoamerica, the Mackenzie Tour-PGA TOUR Canada, mini-tours, the European Challenge Tour, Tour de las Americas, and the OneAsia Tour.