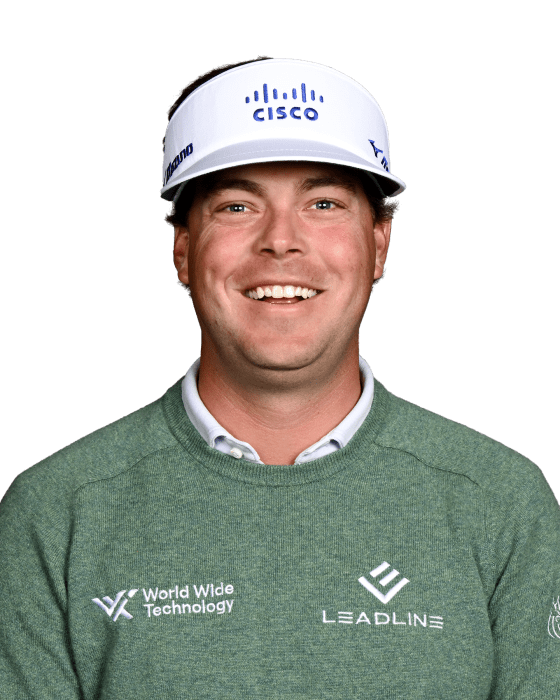 Keith Mitchell
Height: 6'1" (1.85 m)
Weight: 185 (84 kg)
Age: 29 (January 07, 1992)
Birthplace: Chattanooga, Tennessee
Residence: St. Simons Island, Georgia
Family: Single
Education: University of Georgia (2014, Business and Real Estate)
Special Interests: Fly fishing for bonefish at Blackfly Lodge in the Bahamas; finding the best restaurants at every PGA TOUR stop, including Galatoire's in New Orleans.
Turned Professional: 2014
City plays from: Sea Island, GA, United States
Exempt Status
---
PGA TOURTournament winner (thru 2021-22)
Career Victories
---
PGA TOUR Victories (1):
2019 (1) The Honda Classic.
Player Statistics
---
Career Low Round:
62 - 2021 Sony Open in Hawaii (Round 2)
Career High FedExCup Rank:
#12 : 2019 Arnold Palmer Invitational presented by Mastercard
Career High Official World Golf Rank:
#55 : 2019 PGA Championship
Career Largest Paycheck:
$1,224,000 : 2019 The Honda Classic (Finished 1)
2020-21 Season Highlights
---
PGA TOUR

Wells Fargo Championship - Held the 54-hole lead at the Wells Fargo Championship, the first of his PGA TOUR career, before finishing T3, earning his first top-10 on TOUR since the 2020 Arnold Palmer Invitational presented by Mastercard (T5). Led the field in Par-4 Scoring Average (3.86).
Career Records
---
PGA TOUR (Playoff Record: 0 - 0)
Season
Events
Rounds
1st
2nd
3rd
Top 10
Top 25
Cuts Made
Cuts Missed
WD
FedExCup Rank
Earnings
Total:
101
316
1
1
2
10
21
62
39
$6,159,017
2021
24
68
1
2
4
12
12
114
$1,080,518
2020
21
64
1
4
11
10
112
$886,979
2019
26
83
1
3
6
17
9
50
$2,405,360
2018
29
97
1
1
4
6
21
8
67
$1,641,260
2017
1
4
1
1
$144,900
(A) - Amateur
Top Tournaments

---

PGA TOUR
THE PLAYERS Championship
Masters Tournament
PGA Championship
U.S. Open
The Open Championship
WGC-HSBC Champions
WGC-Dell Technologies Match Play
WGC-FedEx St. Jude Inv
WGC-Workday Championship at The Concession
2021
CUT
CUT
2020
CNL
T43
2019
T47
T43
CUT
CUT
CUT
T40
39
2018
T77
FedExCup Playoffs
THE NORTHERN TRUST
Dell Technologies Championship
BMW Championship
TOUR Championship
2020
T61
2019
T64
T52
2018
CUT
20
T45
Personal
---
Graduated from the University of Georgia in 2014 with a degree in Business and Real Estate. Earned All-America honors in 2012.
Attended The Baylor School in Chattanooga, Tennessee. Fellow graduates of the school include Harris English, Stephan Jaeger and Luke List, as well as Brooke Pancake, who joined the LPGA in 2013.
Very proud of his career path to the PGA TOUR and the work required to achieve his goals. Played on PGA TOUR Latinoamerica in 2015, collecting five top-10s, and played on the Korn Ferry Tour before earning his TOUR card for the 2017-18 season.
Father, Jerry, is a doctor in Chattanooga, Tennessee, and a member at The Honors Course. Mother, Cynthia, plans girls trips to his tournaments with her best friends, who have all known him his entire life. The members of the group, who call themselves the "Auntorage," travel to tournaments every few months and wear matching hats. Sister, Brindley, attended the University of St. Andrews in Scotland from 2009 to 2013.
Met his caddie, Pete Persolja, while Pete was a caddie at The Honors Course. Growing up, hired Persolja for club events and U.S. Amateur qualifiers before reconnecting with him full-time in 2016. Persolja, known as "Crunchy Pete," is well-known around TOUR for his quirkiness and positive attitude.
Bought a 1977 Jeep Cherokee Chief and has been gradually restoring it while at home in St. Simons Island, with the help of fellow TOUR professional Michael Thompson.
Knows Peyton Manning and first met him at age 4. Partnered with Manning and Andy Roddick, among others, on Sweetens Cove, an award-winning nine-hole public golf course outside of his hometown of Chattanooga.