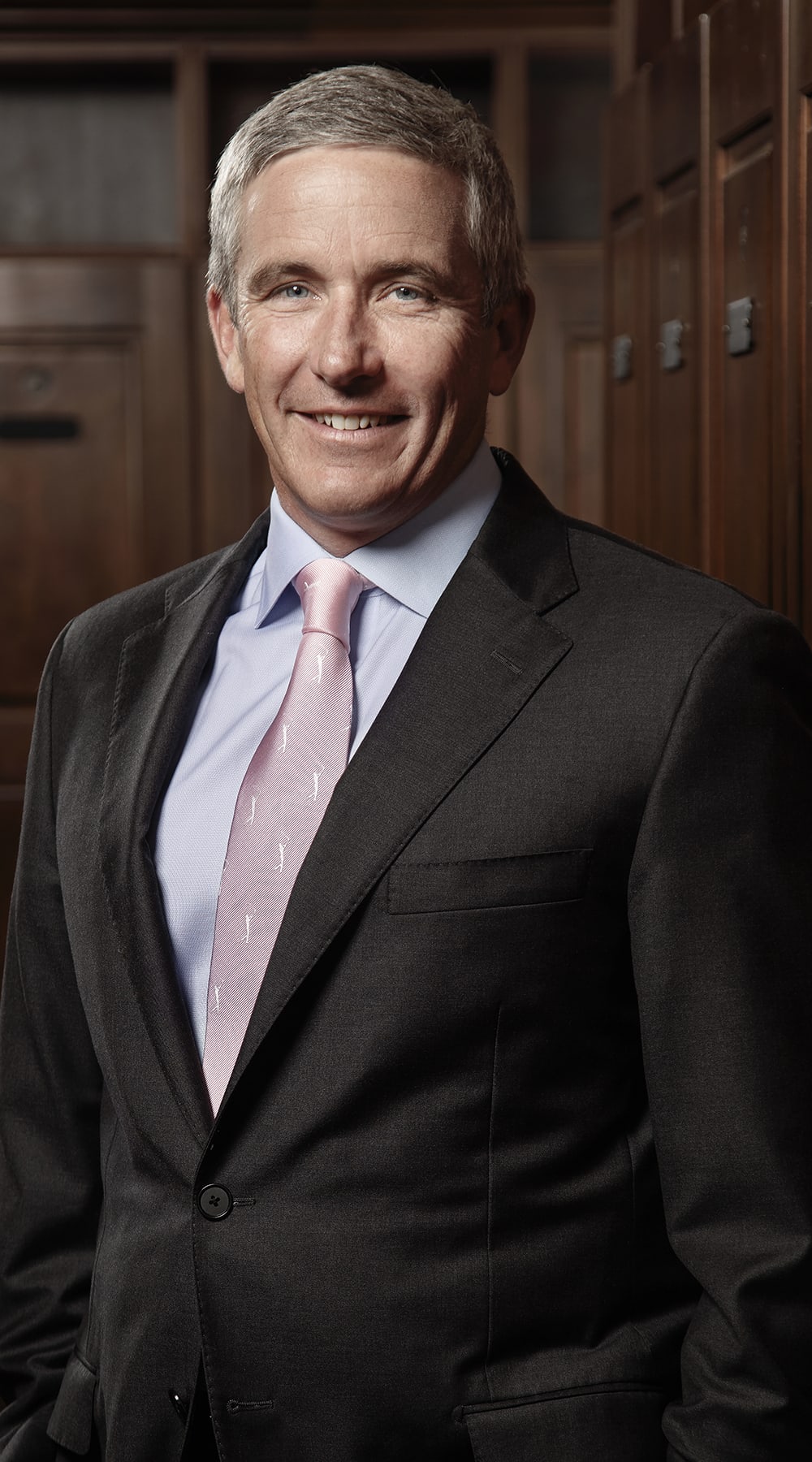 JAY MONAHAN
Jay Monahan became the fourth commissioner of the PGA TOUR on January 1, 2017, having been appointed by the PGA TOUR Policy Board on November 7, 2016. He succeeded Tim Finchem, who held the position for more than 22 years.

The PGA TOUR has experienced unprecedented growth and transformation under Monahan's leadership. During his tenure, player compensation has reached record-setting levels as the PGA TOUR fan base grows in both size and diversity, and the TOUR and its tournaments raise upwards of $200 million each year for more than 3,000 charities.

Monahan ushered the PGA TOUR through the COVID-19 pandemic, as golf was among the first professional sports to safely return to competition in June 2020. That same year, Monahan and the TOUR reached a landmark media rights agreement with both traditional broadcast partners and new streaming relationships, further positioning professional golf for long-term growth. Those deals put the TOUR on a path to create the largest uptick in its business since the introduction of a PGA TOUR postseason in 2007, including a reimagined, calendar-year FedExCup schedule in 2024 as well as the opening of a new Global Headquarters, which in 2025 will debut a 165,000-square-foot PGA TOUR Studios that will significantly enhance professional golf's TV and entertainment offerings.

Monahan joined the PGA TOUR in 2008 as Executive Director of THE PLAYERS Championship. He then served as Senior Vice President for Business Development, where he was responsible for securing new sponsors and managing existing PGA TOUR title sponsorship relationships. Monahan was named PGA TOUR Executive Vice President and Chief Marketing Officer in March 2013, overseeing business development, corporate marketing and partnerships, title sponsor relations, retail licensing and media sales.

Monahan was appointed PGA TOUR Deputy Commissioner in April 2014, with Chief Operating Officer added to his title in April 2016.

As Commissioner of the PGA TOUR, Monahan serves on the Board of the PGA European (DP World) Tour, as well as on the Board of Directors and Executive Committee of the International Golf Federation. He is also Chair of both the World Golf Foundation and PGA TOUR First Tee Foundation Board of Governors. Monahan is the co-founder and board member of Golf Fights Cancer, a 501c3 non-profit organization dedicated to raising funds for cancer-related charities and research organizations.

Before joining the PGA TOUR, Monahan was executive vice president of Fenway Sports Group, leading the sales and business development team for the property ownership and representation divisions since 2005. Additionally, he directed FSG's sponsorship sales operations for the Boston Red Sox, Major League Baseball Advanced Media, NASCAR's Roush Fenway Racing and Boston College Athletics.

Prior to joining FSG, Monahan spent three years as executive director at IMG Worldwide, where he played an integral role in the development of the PGA TOUR's Boston-area tournament and served as its first tournament director. Monahan began his sports sponsorship career as director of global sponsorships and branding programs at EMC Corporation. Previously, he worked at Arnold Advertising and Bob Woolf Associates.

Monahan graduated from Trinity College in 1993, where he was a four-year member of the golf team and a Division II Academic All-American his senior year. He earned a master's degree in sport management from the University of Massachusetts at Amherst in 1995.